To quote Dr.Wynne Davies on his 2008 Fayre Oaks Sale report...........
Yabadabadoo (joint top price) was bred at the Heniarth Stud, Carmarthenshire, sold to Holland and now retuned to Charles and Wendy Frank's Sunwillow Stud where her dam Sunwillow Yasmin, g-dam Sunwillow Quest and g-g-dam Sunwillow Bernina were bred. Bernina, foaled in 1968, was one of the best mares ever to grace the Welsh Stud Book.
25594 Sunwillow Bernina, aged fourteen years - Champion Northleach Show
courtesy of www.Sunwillow.com
To quote the 2005 Royal Welsh Show judge in the 2006 Welsh Pony & Cob Society Journal............
"The three year old filly class was the last class of the section and the quality and numbers did not disappoint me yet again. The winner, Heniarth Yum Yum, entered the ring and instantly reminded me of a young Coed Coch Siaradus and with my type of movement she had to be my choice for the first prize......My Youngstock Champion was the beautiful three year old filly Heniarth Yum Yum with Sunwillow Jubilee (by Heniarth Quip) a very well deserving Reserve Champion."
G Wyn Jones, Nerwyn & Coed Coch Studs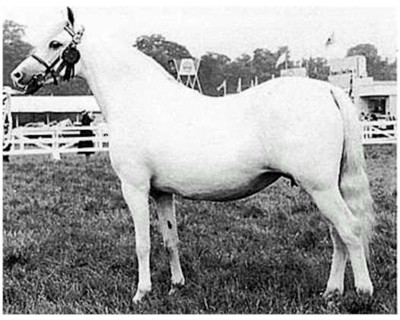 9187 Coed Coch Siaradus -Foaled 1942
Photo taken in 1954 from the Horse and Hound Yearbook